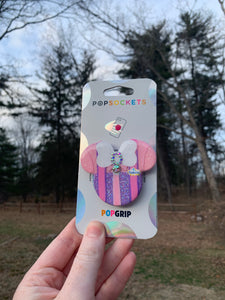 This custom handmade, hand painted pop will feature a bippity boppity boutique cast member uniform with a customizable name tag.
To customize, add preferred name to comment section or email me after purchase with order number and name.
✨

These items are all handmade to order.
Email or message me for updates/questions.

Check out my instagram @happieststuffonearth for videos.
**WARNING: Small chokeable parts.**

-Pop Socket pops, tilts, prop, collapse, grip
-Easily collapsible and can be repositioned and popped multiple times
-Allows your hand to relax while securely holding your phone
-Great for propping phone
-Remove your Pop Socket by pulling slowly on the base; you can re-position and reattach time and time again.
-Item is water resistant

Give your phone a little bit of inspired MAGIC!