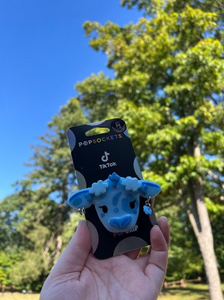 This adorable pop features a cloud themed cow with cloud horns. 

This pop also features metal earrings that are attached to the ears. One is a dangle earring with a matching mini cloud.
Roughly 3x 2 inches. 
✨

These items are all handmade to order.
Email or message me for updates/questions.

Check out my instagram @happieststuffonearth for videos.
**WARNING: Small chockable parts.**
*All Pop are made with a solid resin shape.

-All Pop Sockets are the new swappable design that separates from the base. The base stays adhered to the phone/case.
-Pop Socket pops, tilts, prop, collapse, grip
-Easily collapsible and can be repositioned and popped multiple times
-Allows your hand to relax while securely holding your phone
-Great for propping phone
-Remove your Pop Socket by pulling slowly on the base; you can re-position and reattach time and time again.
-Waterproof

Give your phone a little bit of inspired MAGIC!