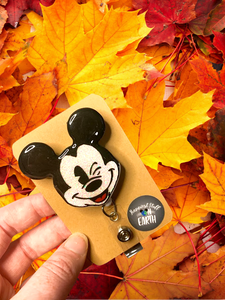 This custom badge reel will feature a winking mouse head with with glitter on his face  
These items are all handmade to order.
Email or message me for updates/questions.

Check out my instagram @happieststuffonearth for videos.
**WARNING: Small chokable parts.**
*All badges are made with a solid plastic shape.


-Swivel/ Alligator Clip
-Retractable Cord
-Item is NOT waterproof but IS water resistant

Give your day a little bit of inspired MAGIC!